Top 23 American Muscle Cars
American muscle cars have been a staple of the automotive market for decades. Initially designed for drag racing, muscle cars are high-performance cars that often feature V8 engines, rear-wheel-drive, and light two-door bodies. Muscle cars are prized for speed and power above all. Since the first American muscle car was released in 1949 — the Oldsmobile 88 — dozens have come and gone, with many becoming collectibles. Here are the top best American muscle cars, both classic and new.
Classic Muscle Cars
The 1960s and 1970s are widely regarded as the heyday of the American muscle car. These 18 classic muscle cars are among the cream of the crop.
1965 Pontiac Catalina 2+2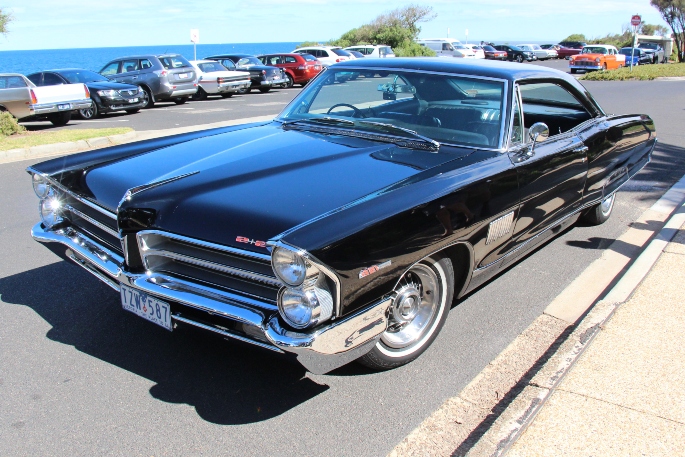 A significant influence on the muscle car era due to its fastback rooflines and flowing sheet-metal design, the Pontiac Catalina came with a 2+2 performance package boasting a 421-cubic-inch V8 engine capable of 338 horsepower.
1967 Chevrolet Camaro Z28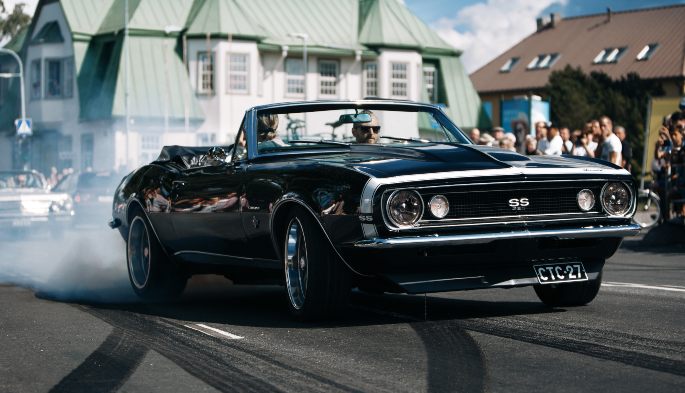 Designed for Trans-Am racing, the Chevy Camaro Z28 won the Trans-Am Championship in 1968 and 1969, helping "Z28" become the most famous regular production code in Chevrolet history. Only 602 Chevrolet Camaro Z28s were sold in 1967, and the vehicle came with 15-inch rally wheels.
1968 Ford Mustang Shelby GT500
The 1968 Shelby GT500 was fast for its time, achieving quarter-mile time slips in the low 14-second bracket. This 1968 Mustang is best known for its role as Steve McQueen's ride during a chase scene in the American action-thriller film "Bullitt."
1968 Plymouth Road Runner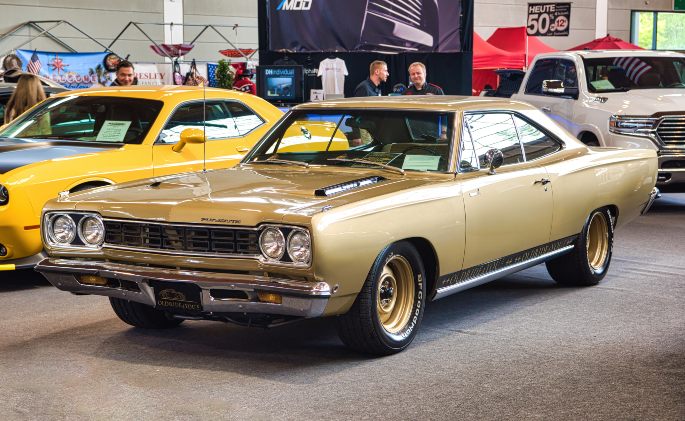 The Plymouth Road Runner was Chrysler's attempt to offer car buyers a simple, affordable muscle car just as muscle cars were starting to get expensive. Named after the Road Runner of "Looney Tunes" fame, this high-performance car contained Chrysler's famous 7-liter, 426-cubic-inch Hemi V8 engine.
1968 Dodge Dart 426 Hemi
Part of the fourth generation of Dodge Darts, a car that lasted from 1958 to 1976, the 1968 Dodge Dart 426 Hemi was designed exclusively for drag racing, and only 80 were released. This muscle car could reach quarter-mile runs in just 10 seconds, making it one of the fastest factory vehicles of its era.
1969 Dodge Charger Daytona
Dodge produced three cars named the Dodge Charger Daytona. But the 1969 model is probably the most famous, as the racing version was the first car to reach 200 mph on a Nascar track.
1969 Pontiac GTO Judge
Conceived as a rival to the Plymouth Road Runner, the 1969 Pontiac GTO Judge came equipped with a Ram Air III engine capable of 366 horsepower and 5,100 rpm. The Judge was named after the "Rowan & Martin's Laugh-In" comedy routine "Here Come de Judge" and typically boasted a bright orange coat and trunk-mounted wing.
1969 Ford Mustang Boss 429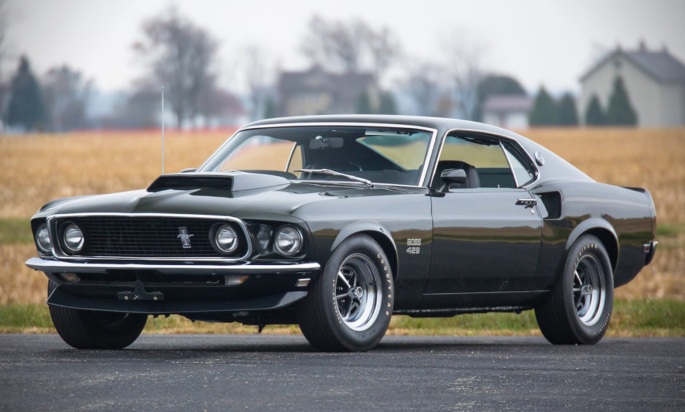 The Boss 429 Mustang, known as "Boss 9" among admirers, is one of the most valuable muscle cars ever made, usually selling for over $200,000 at auctions. This high-performance car was designed for the Nascar racetrack, and its shock towers, battery, brake booster, and other features were altered to make room for its giant engine.
1969 Chevrolet Camaro ZL1
A legendary American muscle car, the 1969 Camaro ZL1 contained Chevrolet's 427 V8 engine, the company's most powerful engine at the time and capable of 430 horsepower. Very few Camaro ZL1s were produced, making it a precious collectible.
1969 AMC AMX/3
Part of the AMX series of two-seat, grand-tourer-style sports cars made by American Motors Corporation, the AMX/3 could accelerate to 60 mph in five seconds, a record at the time. This vehicle also had a top speed of 170 mph.
1970 Ford Torino Cobra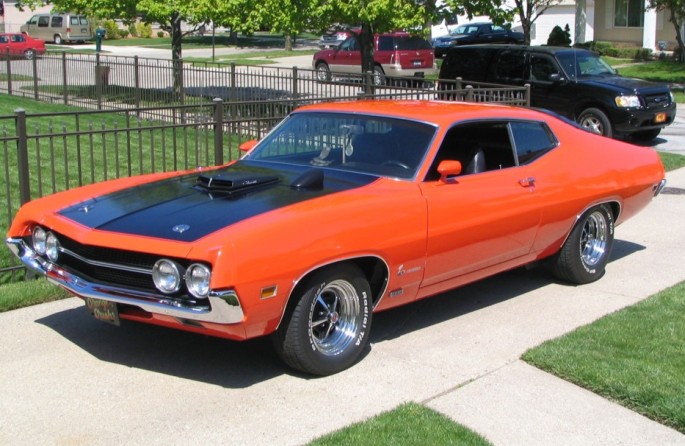 Motor Trend's Car of the Year in 1970, the 1970 Ford Torina Cobra reached 60 mph in just under six seconds and boasted a powerful V8 engine with 370 horsepower. Buyers could get a variant of the Cobra with a three- or four-speed manual transmission.
1970 Oldsmobile 442
The Oldsmobile 442 — named after its four-speed manual transmission, four-barrel carburetor and dual exhaust — was the primary representative of the Oldsmobile division of muscle cars. The 442 featured a 445 CID V8 engine with 400 horsepower and 500 foot-pounds of torque.
1970 Buick GSX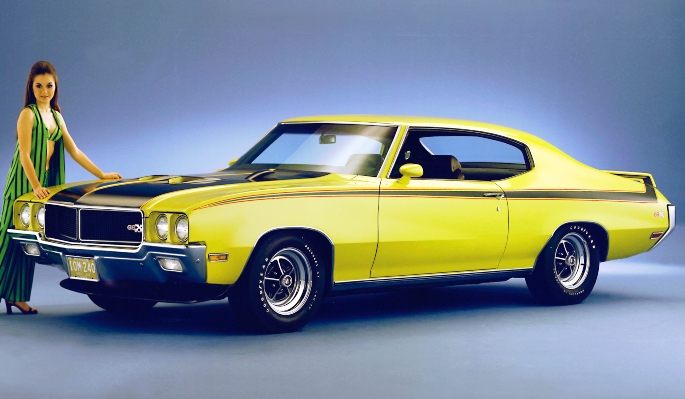 Built as a rival to the Pontiac GTO Judge, Oldsmobile 442 and Chevy Chevelle SS, the 1970 Buick GSX was a variant of the famous Gran Sport line of Buick muscle cars. The Buick GSX emphasized luxury alongside performance, and only 687 GSXs were built, making the vehicle a collectible.
1970 Chevrolet Chevelle SS 454
Named after its potent 450-horsepower, 454-cubic-inch engine, the Chevelle SS 454 is remembered as an iconic muscle car of the 1970s for its impressive performance and sleek styling. The vehicle was also a high-water mark for American muscle cars, as insurance companies and emissions standards began to constrain muscle car designs later in the decade.
1970 Plymouth Barracuda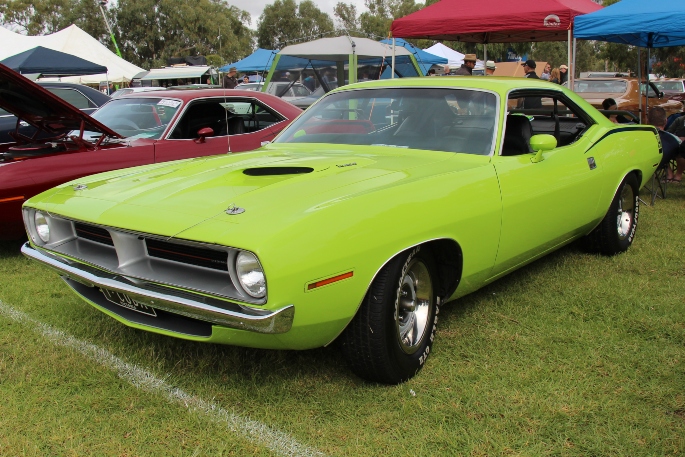 The 1970 Plymouth Barracuda ushered in the third generation of Chrysler's Plymouth Barracuda line, with a body based on the Chrysler E-body platform in contrast to the A platform of previous generations. This vehicle's dual-carburetor 426-cubic-inch Hemi engine could reach 425 horsepower for exceptional performance.
1970 Dodge Challenger
Based on the Barracuda, the 1970 Dodge Challenger from Chrysler also featured the E-body platform. This vehicle had a long wheelbase and luxurious interior, and it was built as an upscale response to the more sparsely equipped Ford Mustang that was popular in the U.S. at the time.
1977 Pontiac Firebird Trans Am
Named after the Trans-Am race series, the 1977 Pontiac Firebird Trans Am achieved fame for its prominent role in the Burt Reynolds action-comedy film "Smokey and the Bandit." The Trans Am boasted handling, horsepower, and suspension upgrades on the Firebird to ensure impressive performance. But the vehicle was never used in the Trans-Am races, despite its name, as the engine exceeded the Sports Car Club of America's 5-liter displacement limit.
1987 Buick GNX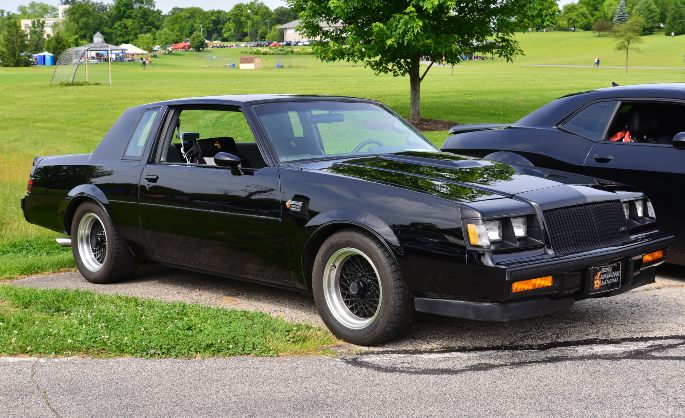 The 1987 Buick GNX, or Grand National Experimental, was made with the help of McLaren Performance Technologies/ASC and was intended to be the ultimate Grand National. This vehicle included a Garret AiResearch T-3 turbocharger for higher performance.
Modern Muscle Cars
Although muscle cars aren't as central to American culture as they were in the '60s and '70s, U.S. automakers still produce terrific muscle cars each year. These are some of the best modern muscle cars on the market, as of 2019.
2016 Chevrolet Camaro ZL1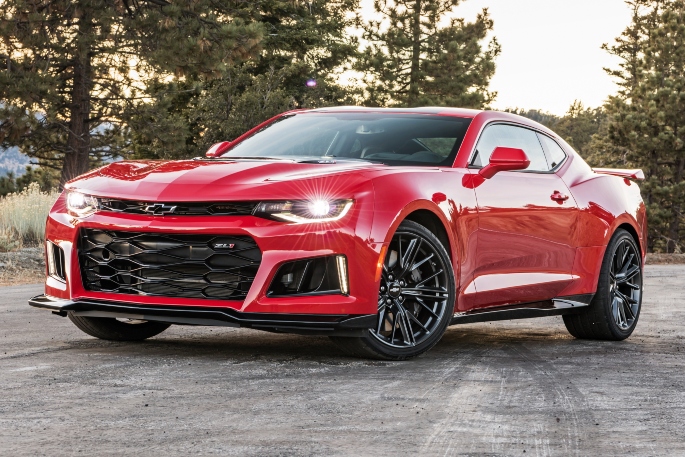 The ZL1 is the fastest Chevy Camaro of all time, with a supercharged 6.2-liter V8 engine capable of 650 horsepower. This vehicle boasts an updated brake and suspension system along with a well-tuned chassis to allow for excellent handling in addition to its high performance.
2017 Dodge Challenger SRT Demon
A higher-performance wide-body variant of the Challenger, the SRT Demon has a 6.2-liter V8 engine with a supercharger capable of 808 horsepower and 770 foot-pounds of torque. This muscle car can reach 30 mph in one second and 60 mph in just over two seconds, and it has a top speed of 168 mph.
2019 Ford Mustang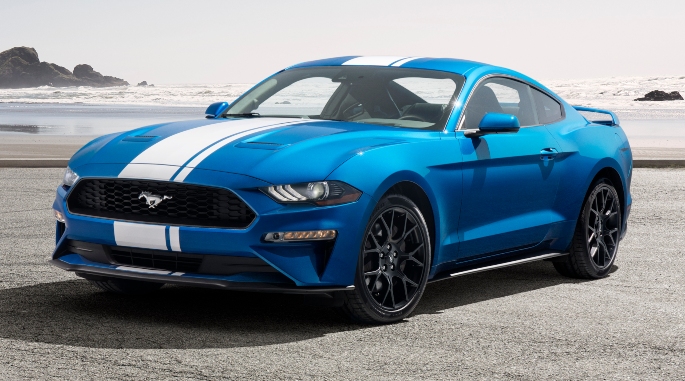 The 2019 Ford Mustang is a sleek, powerful update on a line that's been around since 1964. This year's model comes with a 5.0-liter Coyote V8 engine with 460 horsepower, but it can reach up to 526 horsepower with its most aggressive optional engine. Even the base turbocharged four-cylinder boasts 310 horsepower, more than the Mustang V8s made a decade earlier.
2019 Cadillac CTS-V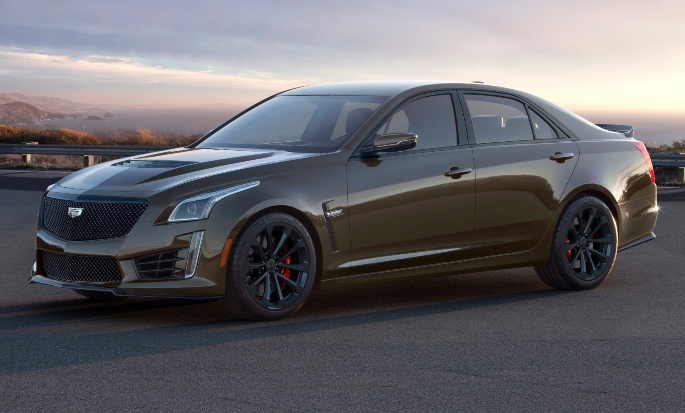 A high-performance variant of the Cadillac CTS luxury sedan, the 2019 Cadillac CTS-V features bold exterior styling and a powerful eight-cylinder engine taken from the Camaro ZL1.
2019 Ford Shelby Mustang GT350
The 2019 Shelby GT350 version of the Ford Mustang features a new suspension and tires, and its rear wing includes a Gurney flap for improved aerodynamics. This high-performance Mustang GT also provides comfort and convenience for occupants with its power-adjustable seats and touchscreen infotainment system.